We are very proud to now offer the full range of PIZZI dispensing solutions to ensure our customers get the best possible results when applying their adhesives.
Pizzi started as a cabinetmaker shop in 1958 but as the company expanded, they found it difficult to get dispensing equipment for the adhesives they used in the factory. This led them to start developing their own dispensing equipment to meet their needs and finally in 1975 the company changed focus to specialise in solely manufacturing dispensing equipment for the woodworking industry. This foundation of being routed in the woodworking industry has helped the company develop many award-winning products that help woodworkers all over the world to apply the required amount of adhesives in a clean and efficient manor every day.
To get the best results from your bonding process it is necessary to ensure the following.
The correct amount of adhesives is applied, too much adhesive can result in long cure times or in some cases a weaker bond.
Ensure the adhesive is applied to the correct area.
Have a dispensing setup that is easy for the operator to use and clean up after use.
Here is a sample of the dispensing solutions we can now offer.
Hand Rollers for applying liquid adhesives
Pizzi glue applicators are highly efficient hand-held units that facilitate a rapid, even coating of all types of spreadable adhesives including polyvinyl acetate (PVA), two-part urea-formaldehyde resin, two-part phenolic resorcinol resins, and low viscosity polyurethane adhesives.
Ideal for use on larger panel production where a rapid coating of adhesive is crucial due to open time (usable life) of some adhesives being relatively short & the need to get bonded components under pressure within a specified time.
Click here for full product details
Pressure pot, hose and spray gun for the application of sprayable adhesives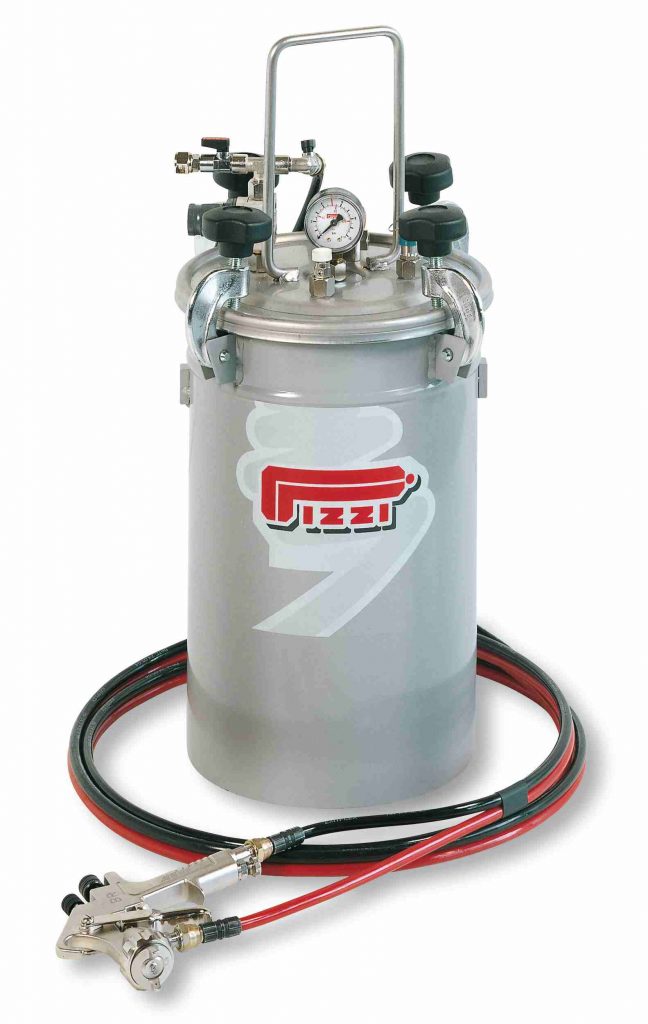 Pizzi 1094 is a ready to go pressure pot, hose and spray gun for the application of water-based and solvent based sprayable adhesives.
The pressure pot and cover are manufactured from solvent resistant stainless steel with 4 CE standard fasteners, it also consists of a pressure regulator, a 4 meter flexible solvent resistant reinforced double hose in polyurethane and nylon and a spray gun with three different types of adjustment – air flow-product quantity-spread of spray fan.
This system is suitable for applying solvent based and water based adhesives to laminates, veneers, metal, rubber, plastics and various foams.
Click here for full product details
Pressure pot for applying liquid water based adhesives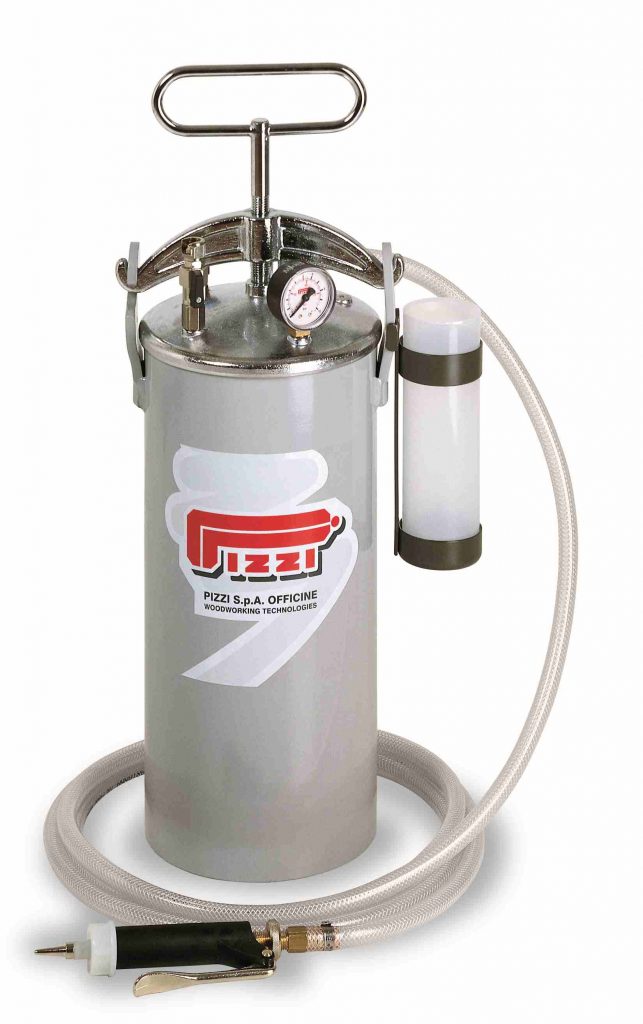 Pizzi 9001 pressurised glue pot suitable for applying PVA glue economically and efficiently with minimal wastage. A wide variety of attachments are available for more efficient application.
Holds up to 20 kg and is supplied complete with 0001 universal nozzle, a wide range of other applicators are available to give a simple economic method for PVA glue application.
The glue is available on-demand and by regulating tank pressure, The amount of glue can be applied accurately and in the correct area. The system works by compressed air pressurising the vessel – this then forces the adhesive out through the regulated nozzle and fitting. The unit comes complete with a container for holding a water bath to stop the glue going off in the gun.
Click here for full product details
Pump system designed for the application of one component moisture curing polyurethane adhesives.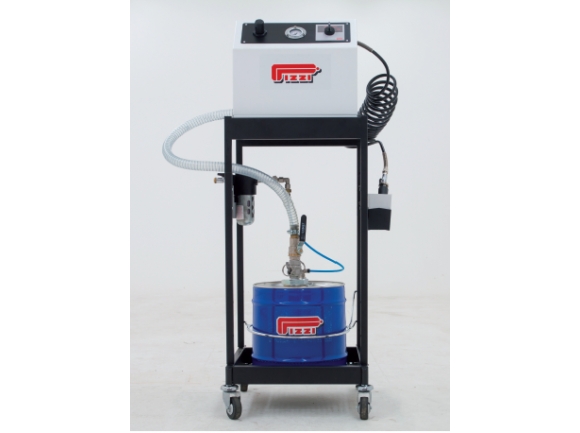 Pizzi EasyPUR is designed for the application of one component moisture curing polyurethane adhesives.
EasyPUR is a very clever and cost-effective solution for the application of PUR adhesive eliminating the mess associated with traditional hand roller or hand spraying applicators.
It is very easy to use and maintain and gives the performance of a far larger, more complicated and expensive machine It has a high-quality Santoprene diaphragm pump which does not need lubricated air. The pump is fitted with a stall-prevention pneumatic system which assures a safe, long-lasting pump life
Click her for full product details
Learn more about our full range of dispensing solutions industry here
ECT Adhesives do not just sell a product, we take an application from the beginning to the end providing expert advice and support throughout.
Our experienced and knowledge based technical sales staff have years of adhesive experience and we have a specialist adhesive chemist who works closely with all applications.
ECT Adhesives- The Power to Imagine a better Manufacturing future.