Panacol has launched Elecolit® 323, a new biocompatible conductive adhesive.
Elecolit® 323 is non-cytotoxic according to ISO 10993-5 and is thus suitable for applications in medical devices.
The 2-component adhesive is the perfect solution to bond EP catheters and any medical device needing an electrically or thermally conductive adhesive.
Other electrically and thermally conductive adhesive variants as one- and two-component solutions are also available on request.
Elecolit® 323
An electrically and thermally conductive medical grade adhesive.
Key Features:
ISO 10993-5 approved.
Can cure at room temperature.
Easy to dispense.
Suitable for screen printing.
High thermal conductivity.
High electrical conductivity.
Passed the autoclave test (1000h).
Base: Epoxy
Curing: Two-part chemical cure
Viscosity: Paste
Volume resistivity: 2,E-04 Ohm*cm
Thermal conductivity: 4.00 W/mK
Learn more about this product here
Elecolit® is our brand of electrically and thermally conductive adhesives.
Elecolit® conductive adhesives offer a wide range synthetic resins filled with metallic or inorganic filler materials to help meet all your requirements.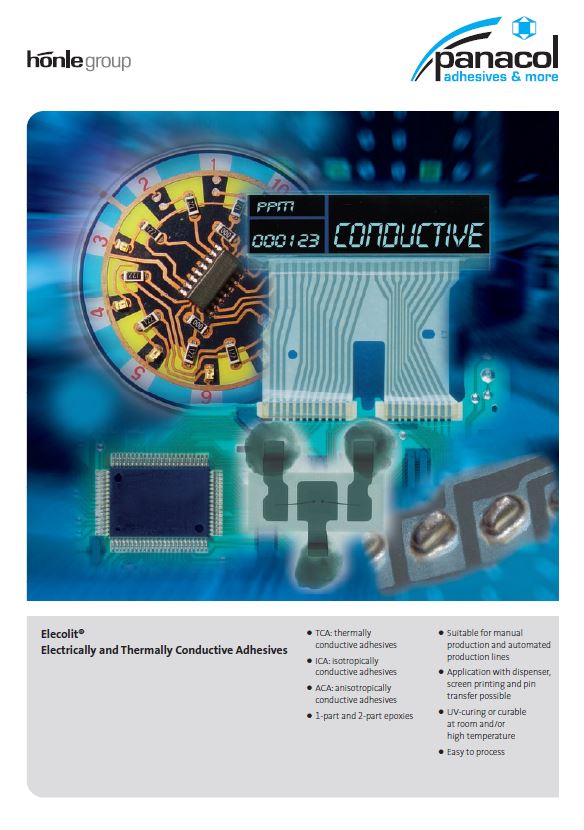 Learn more about this product range here
ECT Adhesives do not just sell a product, we take an application from the beginning to the end providing expert advice and support throughout.
Our experienced and knowledge based technical sales staff have years of adhesive experience and we have a specialist adhesive chemist who works closely with all applications.
ECT Adhesives- The Power to Imagine a better Manufacturing future.