ECT Adhesives are the largest distributor in Ireland of adhesives, sealants and related products, serving many market and industry types.
Amongst the key markets we supply are the Furniture and Upholstery as well as the Modular Building sector.
Both of these sectors use Polystyrene for various applications such as insulation panels within a building. Unfortunately many sprayable adhesives contain various solvents which can attack the Polystyrene and damage the material. To over come this issue, Tuskbond have developed a product specifically designed for the bonding of Polystyrene materials – Tuskbond FD170.
Tuskbond FD170 is designed for the bonding of Polystyrene to itself as well as to a wide variety of other substrates such as MDF, Chipboard and most other timber products. It also bonds perfectly to a wide variety of other materials used in construction such as Concrete, Brickwork, Plasterboard and Aluminium used in panels within a wide range of Modular Building construction.
Tuskbond FD170 Web Spray offers amongst others the following features:
Designed for Bonding Polystyrene
Non- Chlorinated
Dichloromethane (DCM)free
Extremely Tacky
Low odour
Temperature resistance of 71°c
High Solids Formulation
Fast Drying
Long Open Time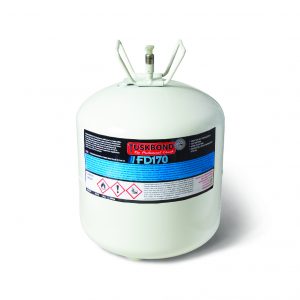 Tuskbond FD 170 Contact Adhesive
A Web Spray Contact  adhesive designed for use with Polystyrene.
Click here for a video demonstration of this product
Learn more about this product here
ECT Adhesives – The Power to Imagine a better manufacturing future.