This is a window (or door) perimeter sealing system providing three functional levels: Weather and Airtightness and Insulation. By installing appropriate products which provide these functions, a robust seal is achieved which will ensure that the weather and energy saving properties of the window will be maintained. Why install a highly rated window (eg A++ to BFRC WER scheme) without a similarly performing perimeter seal?
What is the i3 System comprised of?
There are different product options:
External seal – Weathertightness: TP600/TP450 Impregnated foam tape, or ME500/ME501/ME508 Intelligent Membranes.
Middle seal – Thermal and Acoustic insulation: FM330 Pro Foam Air Seal (PU foam).
Internal seal – Airtightness: ME500/ME508 Intelligent Membranes. Additional products which may be necessary are SP525 Frame & Facade Sealant & Adhesive and ME901/ME902 Primers for potential use for certain substrates or application conditions.
Alternatively, the i3 System can be installed with all three levels provided from a single product – TP650/TP652/TP653 Trio. These are multi-functional tapes which reduce the installation time by up to 80% compared with the conventional three separate products.
Sustainable Performance
Thermal Performance
Before & After: This thermal image shows the impact of the i3 system on a building's thermal loss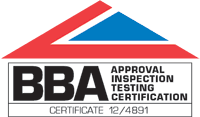 After installation the i3 system continues to perform thermally, acoustically, and against the elements.
10-year "i3" performance guarantee*
The "i3" Window Sealing System from illbruck comes with a 10-year guarantee* for the performance of the joints.
BBA Accreditation
The "i3" system and its individual components are BBA approved, proving their fitness for purpose.
* Under the conditions specified by Tremco illbruck – available on request
Learn more about the

products

Click here
Watch

Videos

on all the various Installation Options – Click Here
ECT Adhesives- The Power to Imagine a better and more environmentally friendly building for the future.