Have you ever imagined a simple to use 1:1 two part structural adhesive that can bond low surface energy plastics such as Polypropylene and Polyethylene?
M451 is our go-to adhesive for low surface energy materials such as polypropylene (PP) and  polyethylene (PE) which are part of the Polyolefin group of chemistries.  It is an adhesive designed to accelerate structural bonding operations while providing high toughness and resilience to vibrations, impact and dynamic loading.  It is very fast curing with a Methyl Methacrylate Structural Chemistry base.
M451 is available in 50ml and 400ml Nylon cartridges for use with a dispensing gun. M451 is also available in 20 litre pails and 200 litre drums, for use with our dispensing systems.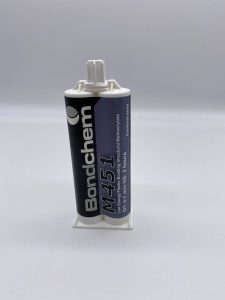 Two part structural adhesive for Polyolefin Bonding.
Learn more about this product here
We are more than happy visit you and demonstrate this exceptional product and show how we can bond these very difficult substrates!
ECT Adhesives – The Power to Imagine a better manufacturing future.