ECT Adhesives solutions are proud to be the Irish distributor for Jowat Adhesives. Jowat was founded in 1919 and has manufacturing sites in Germany, Switzerland, Malaysia and the USA.
Manufacturing over 90,000 tons of adhesives per year, with in excess of 1200 employees, Jowat provides innovative and powerful industrial adhesives, tailor-made for their customers in a variety of industries.
Jowat offer a range of PUR and EVA Unfilled Edgebanding Adhesives which are widely used by processors all around the world due to their impressive bonding strength and high yield, facilitating virtually invisible bondlines – the so-called "optical zero joints" particularly on dark substrates.
Here is just a sample of the innovative products we can now offer you:
Jowatherm® 
608.00/.01 unfilled universal EVA: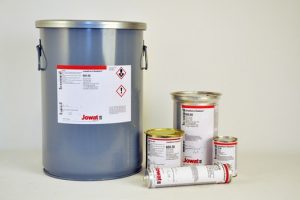 Excellent Thermal Stability;
High initial strength;
Clear bondline;
Lower processing temperature;
Precise, stringing-free application;
Available in 500gm Granule Tins & in 2Kg Slugs;
Available in Clear and White.
Learn more about Jowat 608 here
Jowatherm®
280.30 unfilled universal EVA: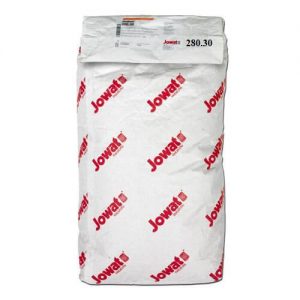 General-purpose adhesive for straight edgebands, softforming and BAZ;
For bonding thermoplastic, HPL, CPL, resinated paper, solid wood and veneer edgebands;
Available in 25Kg Granule bags;
The white colour  version  280.31 facilitates high-quality bonding results on white decor materials and white edgebands.
Learn more about Jowat 280.30 here
Jowatherm®
280.58 unfilled EVA: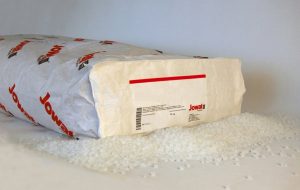 Jowatherm® 280.58 is transparent and crystal clear in the melt;
For application by Roller and Nozzle;
High initial strength & good heat resistance;
providing "Zero-bondline," even on dark decors;
Suitable for Straight Edging, Soft Forming and BAZ;
Bonding Thermoplastic edging and edging made of HPL, CPL, resinated paper, solid wood or veneer.
Learn more about Jowat 280.58 here
ECT Adhesive Solutions are also the appointed distributor of RIEPE® Edgebanding Fluids – Complete range available:
Release Agent LP113 / 03; 
Release Agent LPZ / II®;
Release Agent TH97®;
Release Agent NFLY®;
Release Agent LP120 / 12®;
Antistatic-Cooling Agent LP289 / 99®;
Cooling Agent WZG 12®;
Cleaning Agent LP163 / 93®;
Waxer Agent LP175 /11
Learn more about RIEPE® products here
RIEPE® LP305/98: Manual Cleaning Solution
Specially designed for those who do not have Spraying Systems fitted to their equipment and regularly use other harsh solvents such as thinners to clean off excess glue, RIEPE® have introduced LP305/98 Manual Cleaning Fluid. 
Effortlessly removes glue residues
Strong cleaning power
Quick drying
Residue free evaporation
LP305/98 is packaged in handy to use 1L bottles and also available in 10L and 30L drums.
Learn more about the product here
RIEPE® LP407/13: Chain Plate Cleaner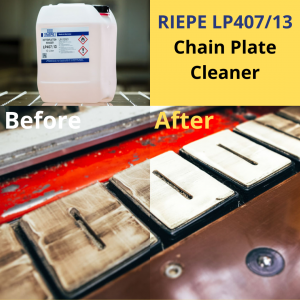 Contaminated chain plates lessen the grip on the workpiece and as a result the applied pressure of the top pressure belt has to be increased. In addition, contaminated chain plates can result in markings on the workpieces.
LP407/13 is specially developed for the cleaning of chain plates, top pressure belts and rubberised roller conveyors. Unsuitable cleaners can cause damage to the surface of the plates. Correct cleaning of the system ensures consistent grip of the workpiece, without impacting the shore hardness.
A quick video to show LP407/13 Chain Plate Cleaner in use
here
ECT Adhesives do not just sell a product, we take an application from the beginning to the end providing expert advice and support throughout.
Our experienced and knowledge based technical sales staff have years of adhesive experience and we have a specialist adhesive chemist who works closely with all applications.
ECT Adhesives- The Power to Imagine a better Manufacturing future.