ECT Adhesives are the largest distributor in Ireland of adhesives, sealants and related products, serving many market and industry types.
One of the main markets we supply is the Sign and Display sector.
The market leading product to this in industry is our Grip and Grab adhesive.
This cartridge type adhesive can be applied with a standard cartridge gun.  It is an unfilled Hybrid Modified Silane system, and has absolutely astonishing initial tack strength, making it ideal for mounting sign plates, graphics and even 3 dimensional structures such as letters or numbers.  Once the items are mounted, they can be left in place immediately and allow the user to just walk away!
It bonds to nearly all substrates and is completely water-proof once cured.
Our Grip and Grab adhesive will cure in nearly any condition, dry or wet, making it ideal for both indoor and outdoor environments.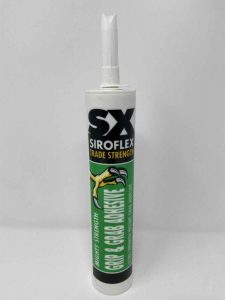 Siroflex Grip & Grab
A single part adhesive with 200 % more initial grab than any other product on the market.
Click here for a video demonstration of this product
Learn more about this product here
ECT Adhesives – The Power to Imagine a better manufacturing future.